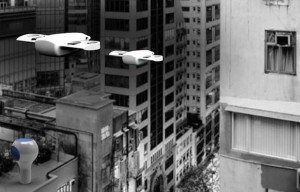 I think we all know that drones are planned for extensive military use, and I have heard that the military is moving more toward drones rather than piloted aircraft. The advantage is obvious, as these war machines can go into battle with no risk of human casualties, at least on one side.
This particular vision to the right belongs to Paola Santana, who co-founded a drone-delivery startup known as Matternet. The purpose is to create a method of delivering supplies via drones rather than delivery trucks and bikes.
Just imagine that! A world where FedEx or UPS come in the form of a robot ready to deliver your package! Man, that just boggles the mind. I guess the only question is how long it will take before stuff like this gets implemented.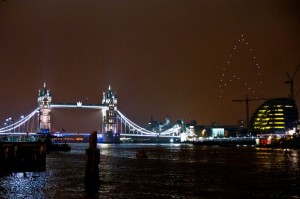 On a somewhat related note, a fleet of quadrocopters has created the Star Trek Logo for the city of London. This is to promote the next Star Trek film coming this summer.