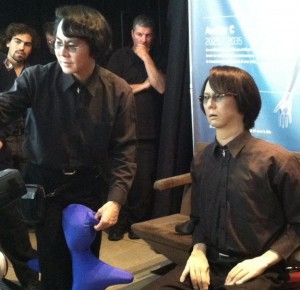 I suppose a proper caption for this image would be "who is the robot here".
The human is Japanese roboticist Hiroshi Ishiguro, and he is the director of the Intelligent Robotics Laboratory at Osaka University. He has created a robot lookalike of himself, and made a public appearance of it at the Global Futures 2045 International Congress.
My Source reveals that Ishiguro has created other robots such as Geminoid, a female model tht can be used as window dressing. He even has a robot roadshow, and they can act out a show with some human expressions. He has said that he made his robots too perfect, and stated they were "more humanlike than humans". I think he paraphrased a line from Blade Runner, which I think I'll have to cover on Speculative Fiction Friday soon. Ishiguro has coined the term "trans humanity" to describe the ambiguity between where humans end and tech begins.
Ishiguro has joked that he could use a robot to do lectures when he is on the road. I honestly don't think that he should have been joking about it. I honestly think we are heading into a robotic age, but it won't be like the one that Asimov described, at least not yet. We are definitely heading into the age of telepresence, like the VGo.