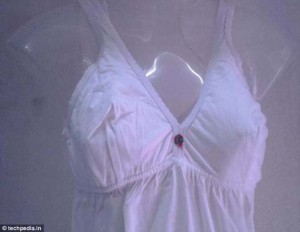 Well, it is Monday, which means that I am looking for something to report on. I found this particular gadget which my source calls "Rape-resistant Lingerie". I would say that they had me at the name, but that doesn't sound good, does it?
This lingerie is designed by three engineering students at Sri Ramaswamy Memorial University. This garment protects the neck and chest, so if an assailant makes an unwarranted grab at that area, he will be shocked by 3000kV.
In case you are wondering, there is a polymer lining to protect the wearer, which was my first question. My second question wasn't will the rape-resistant lingerie make a cell phone call to the authorities with the GPS coordinates of the attack, but just so you know, this will do just that.
My second question was actually some vague question on if we have really fallen this low as a society. As a man, I don't think I have a right to talk about this. I notice they aren't making a rape-resistant jockstrap.