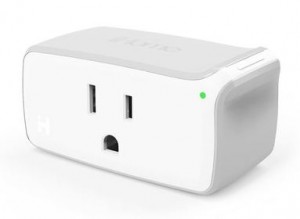 We managed to get a hole of three particular iHome products this week, and we are going to be looking at them one at a time. We'll start first with the iHome Control SmartPlug, or iSP5.
I will start by saying that yes, this is a product that is already being made from several competitors, as having a connected home is kind of the thing to do these days. In particular is to make a connected home simple, so adding something to an outlet and plugging in an appliance is about as simple as it gets.
Also, using Wi-Fi is pretty simple too, and this is Wi-Fi enabled with no hub required, working on appliances up to 1800 watts and under. It is recommended for devices such as lights, window air conditioners, fans, portable heaters, coffee makers, as well as home audio systems.
This SmartPlug is certified for the Apple HomeKit, which works with Sir for turning devices on or off. It can do more than just that, as there is an application that works with multiple SmartPlugs for creating "scenes" that enable maximum control. By the way, the SmartPlug works with both the Wink app and Nest as well.
If this sounds like something that you want, head on over to the iHome site and lay down $39.99 for it.