As you read this, I am hopefully in Atlanta enjoying MomoCon 2015. If you aren't familiar with MomoCon, it is one of those events made for fans of anime, comics, video games, and all thinks geeky. Yeah, I haven't been to one of these in a few months, and I flew down from Washington state across the nation just to attend.
As it so happens, I am also going to be speaking. I'll be delivering a lecture on Video Games and Storytelling, and it is at a weird time-slot of 11 PM on Friday, May 29, 2015.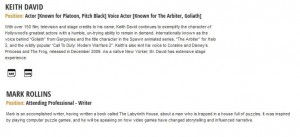 Here's the exciting thing, I am actually on the docket as a "Gaming Guest", and I am right next to Keith David, an actor who currently appears as a regular on Community and is the voice of Goliath on Gargoyles.
As usual, when I got to these conventions, I will take picture of the cosplayers, as well as spreading the word on my Labyrinth House book. Check out what I will have tomorrow here and on Facebook, and I guarantee this will be fun.
As for my lecture, I intend to have it ready on Prezi after it is over. Prezi is a place where you can put Powerpoint-like presentations, and it should be good.