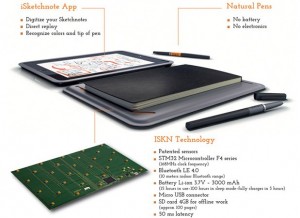 In all my years of reporting on gadget reporting, there is one thing that I have seen over and over again, and that is the digital pen. I am not talking about one of those styluses for your iPad, but a way of turning what you write or draw on a piece of paper into something digital, no scanner required.
Generally, these types of pens are really awkward to work with, and with mixed results. Sometimes that squiggle that I made on a page looks terrible when rendered in pixels. I am not surprised that someone on Kickstarter has given this another go.
This is the iSketchnote, and it is an iPad cover digitizer which will allow you to draw, with ink, onto any notebook or paper. You can save the pictures or other various notes or doodles to an SD card thanks to a built-in slot. That, or you can also just send it right away to the iPad.
The good news is that the iSketchnote made its Kickstarter goals, and it looks like it should be available for about $119 if you get in on this early bird special.