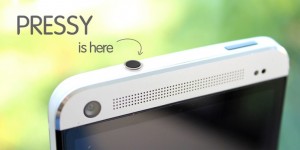 So, anyone want to know what a Pressy is, and what it can do for Android phones? Well, it has been a while since I covered a good crowdfunded project, and this one caught my eye for some reason or another.
First of all, I didn't know that the headphone jack on my phone was capable of doing more than just plugging audio in for output. This Pressy is a button that you can add on your phone to make that button external.
The interesting thing is that the button can do more than just push. You can also make it react to a quick tap, long tap, or even a double tap.
The best part is it is not to expensive, but costs $15. More good news: it made its Kickstarter goals.