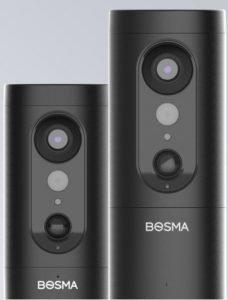 Well, Bosma, we meet again. We reviewed that Smartlock and Doorbell, with mixed results, but now we are on something different with the Bosma EX Pro Outdoor Camera.
As I mentioned in my video review, I find it odd that I am reviewing a lot of cameras made for surveillance, and yes, that probably means something. This particular one allows for some serious action with 180 degrees worth of panning and 45 degrees of tilting. This is because you can set it up to be mounted on a wall and clicked into place.
The set-up was very simple, as I just downloaded the app and plugged it in. In a matter of minutes, I was able to get some seriously good footage, and that is saying a lot.
There are also other features, such as advanced motion detection, as well as person detection. You will be getting notifications, and you can also choose these "activity zones" so you can get the notifications for the area in front of your door, which means no more false positives on passing cars and so forth.
Then there are other features like a spotlight, two-way audio, as well as night vision and auto-tracking. It feels like it can do a whole bunch, and I think I am only in the beginning of finding out all that it can do.
I don't seem to have a decent price point on this camera, but you can find out more information on the product on the Bosma site.