We reviewed a room security camera by D-Link earlier last month, but now we have a different camera to review. This one is the EZVIZ Mini Plus, a high definition little camera that is pretty mighty in function.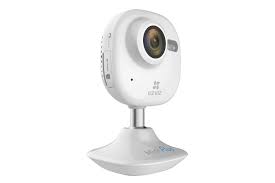 Available in black, pink, or white, the camera shoots in 1080p- which is a step up from the 720p DLink camera we reviewed. It also has a 135 degree viewing angle- compared to the 120 degrees of D-Link. It also has some nice night vision as well.
If you want to mount this to a wall instead of using it in the base, there is a metal plate with screws you can put in your wall. The device is magnetic, and can attach to a fridge or any other metal thing you want to put it on. However, the pictures they show of the camera on the EZVIZ site do not show that the camera is NOT battery operated. You do have to plug it in. The power cord is a little over 9 ft long, so it is a decent length to plug in. The dimensions of the actual camera in its swivel base is 3.35 in. tall and 2.17 in. wide.
The initial setup is pretty straight forward. Download the app (iOS and Android supported)- which can work with multiple cameras, and the app is user friendly. You need a Wi-fi connection to hook the camera up to (both 2.4 and 5 GHz is supported). Once you register on your app, you'll set up your device by scanning the QR code on the back. It will then ask to hook up to your Wi-fi connection. Once you are connected, you are ready to view from your device.
You'll need to insert an SD card so you can record footage taken once the motion sensor is set off. You can also store video on the Cloud, or pay for a separate service from EZVIZ.
There is two way audio, so you can hear your baby stir, or talk to your dog when you are away. Another nice feature is being able to connect to a smart device like Google Home or Amazon Echo. You're able to turn the camera on and off using these devices, but at this moment, it doesn't do much else.
The mini plus is listed at $79.99 on the EZVIZ website, but I'm seeing it for $54.99 on Amazon.com. At any rate, this camera is definitely the best we've reviewed in this price range.
And our usual disclaimer- EZVIZ sent us this camera to review for free in exchange for a fair and unbiased review. No other compensation was given.