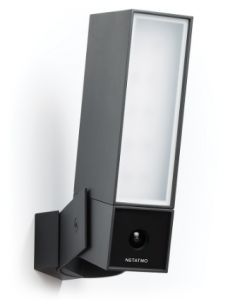 It's hard to believe that we are living in a time where anyone can have their own personal security system, and products like the Netatmo Presence make it very affordable. The Netatmo Presence is not only affordable, but it is quite easy to install. Just think of it as another outdoor light.
Yes, all that white space on the Presence is made to be a floodlight, and it is a smart one. You can program it to switch on when it detects either a person, car, or animal, or maybe just all three from up to 65 feet/20 meters. By the way, the application allows for clicking the light on from a smartphone or tablet.
While we are discussing the application, it keeps track of the animals, cars, or people that will be passing by. Since this is a security camera, you can record the footage on the included SD card. You can also store the videos automatically on a personal DropBox cloud or a personal FTP server. If you want to see what happened during the day, there is a timelapse feature, and the videos are full HD quality with a pinch-to-zoom for details.
I am told that the Netatmo Presence has some "bank level" security, but I am not certain how good it truly is. Anyway, this is quite a product, and would make an excellent gift for anyone who wants a bit more security for the holiday season. The Presence can be purchased on the Netatmo site for $299.99.