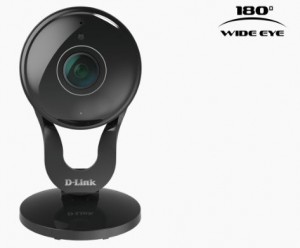 Okay, it's been a while since I reviewed a D-Link product, and one of the last one was the Full HD Ultra-Wide View Wi-Fi Camera. This particular DCS-2530L Full HD 180-Degree Wi-Fi Cmaera is a smaller version of that, and we had a chance to check it out for ourselves.
Just to let you know, you will be hearing some form of 180 in this review. First of all, it has a 180 degree field of view, which allows a 50 percent more view with a very wide angle lens. Oh, it also has a 1080p HD quality video which gives a lot of great clear video. So, there is a 180 listed twice, because 1080p is kind of like 180.
As you might have guessed, it is made for security, as it has night vision for 16 feet with built-in IR LEDs. It has sound and motion detection for some push alert notification when loud noises or movement is detected. You can put the recorded footage on microSD/SDXC slot.
Do you want to view this on Wi-Fi? That can hapen, and there is a remote viewing on the smartphone or tablet. It's nice, and it has a mydlink Lite app.
Now, I just checked out the original Full HD Ultra-Wide View Wi-Fi Camera, and that model had most of the same features. The cool thing is that is cheaper at $159.99. You can get it at Best Buy and the D-Link site.