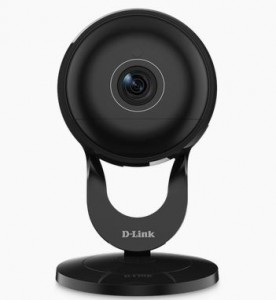 I've reviewed a lot of D-Link products in the past, and the last camera was The Outdoor HD Wireless Network Cloud Camera. I was fortunate enough to receive another from D-Link with the Full HD Ultra-Wide View Wi-Fi Camera (DCS-2630L), and something else came with it as well.
The company sent me these glasses that had these blinders on them, so my field-of-vision was limited. I decided not to take a picture of myself in them, but to quote Dennis Hopper from the movie Speed: "You got your blinders on!" I have no idea how much field of vision an actual human has, but this Ultra-Wide View Wi-Fi Camera has a 180 degree view, with 1080p resolution. What is interesting is that the view feels like a movie theater rather than the fisheye lens in some 180 degree cameras.
This camera can record video footage to a microSD card up to 128 GB. This allows for up to a week of continuous clip recordings that are accessible through web portal and the MyDlink application. By the way, the camera begins recording automatically to a microSD card when it senses changes in the home. You can even add up to three additional D-Link Wi-Fi cameras and make a kind of homemade security system.
The camera itself has a lot of interesting bonuses, like a built-in microphone, and it can even send alert notifications if the sound gets loud, like with broken glass. There is also a light sensor in case the camera needs to see in the dark.
If this sounds interesting to you, it is available for $199.99 at Best Buy and the D-Link shop. You can find out more information about it here.