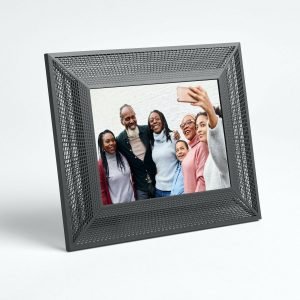 Oh yes, we have reviewed many digital picture frames on this website and our video channel (such as the PhotoSpring), and yes, I was very pleased to review this one. I have to admit that this is the first time that I reviewed a device from AURA Frames, and I am hoping this is not the last.
I am told that the Smith frame is Aura Frames flagship model, and it certainly feels quite advanced. I will have to say that I love how the frame's framework (for lack of a better word) had been constructed. It's kind of like a cross between a screen door combined with metal that is much thicker and finer. I don't know how to describe it any other way.
Now, the setup was pretty easy. It comes in packaging with the cord, frame, and a stand. The stand fits on the back to secure magnetically, with room enough for the cord.
Of course, you will need to download and app, and you can sync the frame via Wi-Fi and Bluetooth. I was able to then send photos from my phone to the frame, and it is very easy to adjust an image into portrait or landscape, whatever you desire. The issue that I had is that I had to specify at first, and then I used the touchbar on the top to flip through the photos I had put in it.
What I haven't figured out is how to shuffle the photos. This doesn't seem to be very instinctual. I should let you know that the touchbar also allows you to "love" a photo, which causes this heart to appear, and I am not certain what else happens.
If you want to get your hands on this, head on over to the Aura Frames website and lay down $399 for it, and it is available in Black Onyx or Platinum Rose.