You have so many pictures and videos on your cell phone that you've run out of space for them all? What can you do about it? The Kwilt Shoebox may be the perfect solution to your photo storage problems.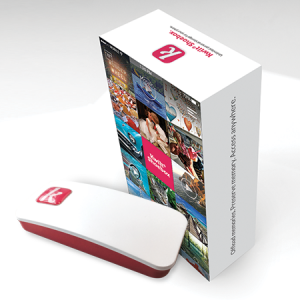 photo credit- Kwilt
Kwilt is a great alternative to paying for the Cloud, or running out of room on Dropbox. Instead of a monthly subscription that is required for the Cloud, you can buy the Kwilt Shoebox for $59 on Amazon.com. It retails for $69 if you buy it off the Kwilt website.
Opening the box, you will find your Kwilt Shoebox, a power cord, a USB adapter and an HDMI adapter. It's pretty easy to setup for the first time. You will need to download the app made for iOS or Android. You will connect to the Kwilt wifi before trying to transfer your pictures, but once connected, you'll be able to transfer your photos whether you are at home, or away.
Now, the Kwilt doesn't have unlimited storage on the actual shoebox. You'll eventually transfer photos to a USB drive or your hard drive or whatever, but it is a really affordable way to be able to keep your originals photos in high res size. You can also save your photos to your hard drive from anywhere with the app.
The HDMI adapter also allows for easy viewing on your television, which is a great feature!
Here's the video to show how easy it is to set up:
https://www.youtube.com/watch?v=I7xWWqzQGQc
As a family who loves to take pictures on our phones, we would recommend this product for others who love to do the same.
Disclaimer- Kwilt sent us this product for free in exchange for a fair and unbiased review.