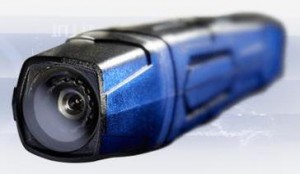 I'm pretty certain that we all know what Taser International is known for, and my Source states that over ninety percent of United States policemen rely on them.
The Axon Flex is not designed to shock any assailants, but it will film them. It is a 3.2 inch camera that work for about 12 hours. All that you need to do is push a button, and it will warm up by recording 30 seconds of video, then switches to audio and video recording.
It is designed to clip on to sunglasses or even or even a ball cap. I am not certain why there isn't a some sort of taser shockie thing on this camera. This way, if you ever have to use a taser, then the Axon Flex can record it. I guess that is a good way of getting an officer's POV.
Personally, I think that the best part about the Axon Flex is that it is not related to the terrible movie Aeon Flux, even though the name is remotely the same. We might want to cover that on Speculative Fiction Friday sometime.