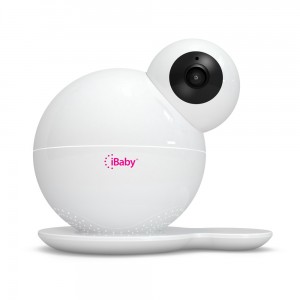 It has been a while since I have reviewed a baby monitor on this blog, but then again, it has been a while since I needed one. I decided to review it, as every house needs an extra eye these days.
I'm going to have to say that I truly love the design of the iBaby Monitor M6. As you can see, it has a look of two joined balls, one large and one small. The purpose of these is to turn so you can always see your baby at whatever angle that you wish in real-time. You will note its white minimalist spherical look, which will fit right in the age of Apple.
If you're worried that you don't have the technical know-how to do this, then I understand. Most mothers and fathers aren't really that tech-savvy, and after having a baby, the last thing that you want to think about is calibrating some new gadget. In the case of the iBaby Monitor M6, you just download the iBaby Care App and connect the cables. It works with Wi-Fi, 3G, and 4G LTE.
The camera is a 720p HD which allows you the user to snap HD photos and record HD videos as well, so you can post them if you want to. Of course, you don't have to, because the iBaby has an integrated social platform to sharing a baby's live journal, parenthood experience, or ask questions and receive advice from peers.
Another terrific feature is the Voice Recorder, which allows the parent or caregiver to leave a personal audio message as a lullabye or some other way to calm the child. There is also a music player and two-way audio as well.
If this is something that you want, you can get the M6 on the iBaby on the iBaby Labs site for about $199.95.