Today we're going to talk about home security. It seems to be a big essential these days. Many videos have caught the thieves stealing items off porches lately.
The DCS-8000LH from D-Link is a good solution to home security needs. I should say right away that these mini cameras are NOT meant for outdoor monitoring- more like something you can monitor what is going on in a certain room, although if you had the right set-up near a window, you might be able to get footage during the day to make sure no one is stealing your packages.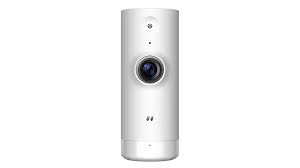 The cameras shoot in 720p HD with a 120 degree wide angle lens, so you can see a good portion of your room. Sound and motion sensors will send push notifications to your phone to let you know of any activity going on. You can record from your phone- even at night, as there is night vision on the cameras.
They are pretty small (3.74 inches tall), and could fit in your hand, but not small enough to be a spy camera or anything. You do have to plug it in. It comes with a microUSB DS power adapter. The cord isn't terribly long, so you'll have to hope for a nearby outlet in a convenient place, or use an extension cord.
You'll need to download the mydlink app, and some users have experienced problems setting up the Bluetooth connection with their wi-fi. Make sure you have a 802.11 n/g wireless router, and don't give up if you have initial issues getting it connected. D-Link has customer service to help get you going.
This camera is not as good as the Ring devices, maybe, but those are also much more expensive. You can get a single camera for $59.99 on the D-Link site, or places like Wal-Mart and Amazon.com, or you can get a 2 pack for $119.99.
D-Link provided us with a single camera in exchange for a fair and unbiased review.