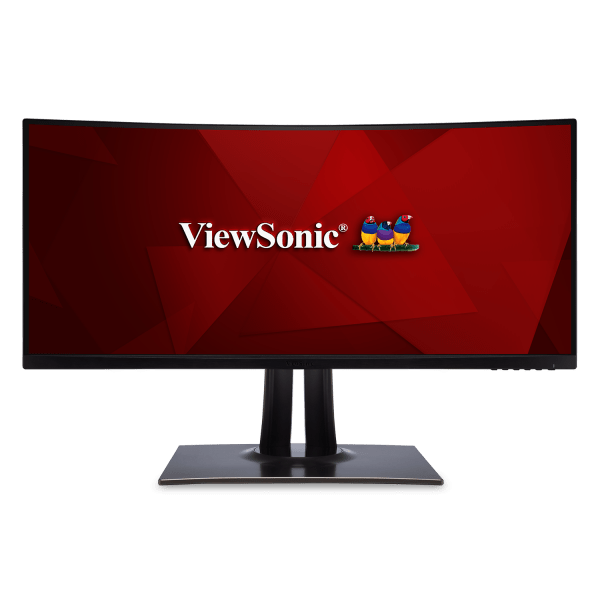 This is going to be one of three reviews of a ViewSonic product that we will be doing on this site, and I'm going to start with the ViewSonic VP3481 34-inch display. This guy is an MVA Panel with 3440 x 1440 resolution, and it is good for gaming and all kinds of video things.
Right now, I have it in front of me as I type this, and thanks to the big stand, I can have it there as a large secondary to my laptop. The stand makes it very easy to adjust, which is a definite bonus. I know very few people talk about the stand of a display, but it looked like a lot of great design went into it.
I have to admit that I am not used to a curved screen, but certainly gives a great feeling when you are in the center of it. Also, the 3440 x 1440 resolution gives a feeling of clarity that I like…a lot. I am told that there is some HDR10 compatibility. It also has a 100Hz refresh rate and AMD FreeSync technology, and although I do not know what that is, it certainly makes it a good viewing experience. I mean, it has 14-bit 3D look up table with a color palette of 4.39 trillion colors.
Oh, and I have to talk about the ports. We are talking two UsB 3.1 Type A, one USB 3.1 Type B, one USB Type C, one USB 3.1 Type C Downstream, one 3.5mm Audio Out, two HDMI 2.0 in, and one Display port.
So is there a downside? A little bit. I find that when I put a window on the screen, then maximize it, it really spreads it out. So much so, that it makes the window very hard to read as it surrounds me with a wall of text. Fortunately, there is some hardware calibration available with the ViewSonic Colorbration kit for anything from photography, graphic design, and professional applications.
If you want this type of display for whatever you are doing, I am going to recommend it, and it can be purchased on the ViewSonic site for a price of $788.99.