Drones seem to be all the rage these days. They're fun for adults and kids alike. The best drones have cameras, so you can get great views that you normally wouldn't get if you're standing on the ground. We get a chance to review such a drone today. This is the Q900 Phoenix HD drone by Zoopa.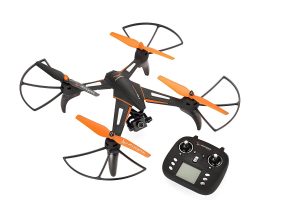 Zoopa has different sizes and styles of drones out there- from the tiny little ones that fit in the palm of your hand, to bigger ones that have more bells and whistles. This one is the newest one that just came out in November, and if you want one with a great camera and long lasting battery, but aren't ready for the professional drones, then this drone is one that we would recommend.
The camera on it has a 2 axis stabilization, and takes video and photos in 720p HD. This is a really good camera for a drone at this price point. The battery life is also decent for these drones at 18 minutes. It also has a decent distance of remote flying at 1,000 ft.
With the drone, you will get a remote control that has an led display. The display gives you all the details of flight speed, height, battery level of your drone, battery level of the controller and more! There's also a slot in this remote control that will hold your phone so you can see what your drone is seeing as you fly.
The remote requires 4 1.5 AA batteries, which aren't included, but things that ARE included are a charger, charging adapter, 8 propellers(so you have backup), a 4G SD card and a card reader. Make sure to read the included instructions- unless you are a know-it-all who doesn't need instructions. Otherwise, it's supposed to be ready to fly out of the box. You will need to get the FAA registration done if you want to avoid getting ticketed by the police, though.
One of the best features on this drone is the Return-to-home feature. Other drones might get lost if you lose sight of it, but with a simple push of a button, your drone will come right back to you. We think that's pretty cool.
There's advanced features of headless mode (learn about that here) and 3D rolling. You have to turn this feature on with the controller, as they don't want you to mess up your camera if you don't know what you are doing. This feature is a "do at your own risk" feature, and will not be covered under warranty.
At $179.99, we believe that this is a great model for the price point, and would be aimed at beginner fliers who aren't ready to spend $500 to $1000 on professional style drones.
Thanks to Snakebyte for sending us this drone to review for free. As always, we aren't sponsored by any company, but give our best unbiased and fair reviews.