Today, I got a surprise delivery as I finally got a chance to review some EnerPlex products once again. The last time was when I reviewed the Surfr, the Jumpr, and the Kickr. This time, I got some other things, and I'm going to concentrate today's reviews on the two solar backpacks that I received.
I'll start with the Enerplex Packr Commuter solar backpack. This one is made for either the student or just some traveler, as it has a padded interior laptop laptop sleeve that will allow you to pass through with the charger. I am guessing that you could fit a tablet and put the wire through there for charging.
Yes, I should probably talk about the fact that this is a solar backpack and you use it to charge things. According to the website, it will take about 3 hours to charge a mobile device. Now, the sticker on the product says 5 hours on most mobile devices, and it also says it charges at half the rate of an outlet.
There are other bonuses on for the Commuter version of this backpack which include 2 external zippered pockets for water bottles, as well as business supply compartments for pens and business cards. You should be able to get it on the EnerPlex site for about $99.99.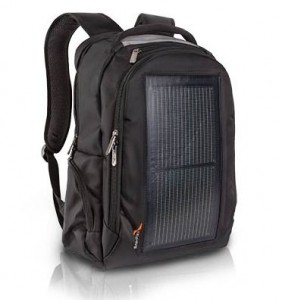 Okay, most of the features of the Commuter apply to the EnerPlex Packr Executive. This one feels like the carry-on that I take with me whenever I go on business trips.
Granted, it doesn't have any wheels or a pull out handle, but it seems to be made for business as it seems to hold both business cards and pens. I'm thinking that maybe I should take this on my business trips, although it would only fit my computer and not my clothes. It does have a zipper that expands the backpack, and there is a cool seatbelt thing for the laptop.
At least this Executive allows for some good charging, and the mismatched charging times that I mentioned apply. This Executive is very stylish as well as a charging device. It is also available on the EnerPlex site for $129.99.