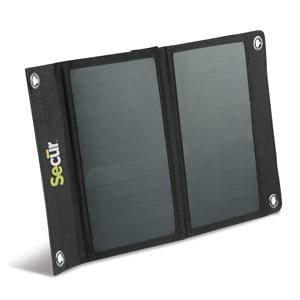 As I was reviewing the last Secur product, I was then sent some more Secur products to review. It appears that the company is listening to me when I said that I will review their products as much as I can. I'm going to tentatively say that the Ultimate Solar Charger is my last Secur product that I will be reviewing, for now.
Now, unlike the other four or five Secur products that I have reviewed in the past, the Ultimate Solar Charger isn't trying to be too many devices at once. Not that there is anything wrong with that, because this is handy.
The Ultimate Solar Charger has a High Efficiency 12 Watt Solar Panel with a 10,000 mAh Lithium battery. Once it is charged up, there are dual USB ports so you can charge up two devices at the same time. By the way, it has enough power to charge an iPhone five times.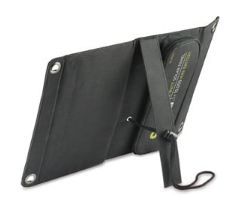 It has a waterproof pouch that is good enough for holding a smartphone. So in case you are wanting to recharge at the beach, you don't have to worry too much about moisture. by the way, there is this "Easel Bak" to adjust the position toward the sun.
It is a pretty good product that is charging my phone as I write this, and it is charging it fast. Like the last product, the Secur website doesn't have a price on it just yet.