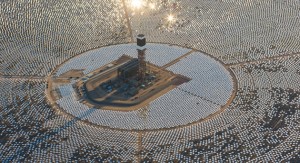 Yes, this is the world's largest solar energy system, at least this is what BrightSource Energy is telling us. The Ivanpah plant covers 5.5 miles, mostly with 173,500 mirrors.
This Ivanpah Solar Electric Generating System has 392MW of power, which is enough to make up 30 percent of all solar thermal energy in the United States alone. That is good enough for 140,000 households, which helps to avoid 400,000 metric tons of carbon dioxide each year.
Yes, that does reduce the carbon footprint significantly, but there is a dark side. Apparently all the heliostats (the mirrors) have caused trouble for birds and other wildlife. So, do we take the clean energy over the endangered species? Stuff to think about.