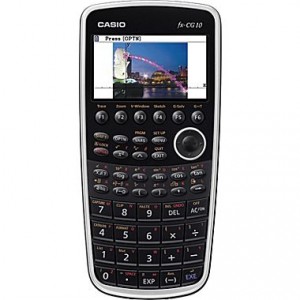 I find it hard to believe that I have reviewed very few calculators in my career as a tech reporter. If it were thirty years ago, the most advanced computer technology was the calculator. The last one was the Casio FX-9860GII Graphing Calculator, and this new PRIZM fx-CG10 has one stand-out feature: color.
Think about it. Most calculators that you have ever used are in black-and-white, even the cool graphing ones. Honestly, most people have calculators on our cell phones, but there is now a very cool calculator called the PRIZM fx-CG10 which takes it even greater than our modern-day smartphones.
That's right, do not be fooled by the fact that it looks like a dumb-phone. I guarantee you that this is the coolest display that you will see, simply because you don't expect to see something capable of 65,000 colors here.
So not only can it do all the usual math and hook up to the computer via USB, it has a Picture Plot, a feature to enable the user to plot a graph with a picture of something in the background.
All in all, it is kind of cool, and something like this can be a good stocking stuffer for the student on a Christmas list. It is pretty high-priced at $129.00, but it might be worth it. You can get it here.