Where were these things when I was a kid? If I had cool toys like the Orboot and Plugo, I would have loved learning a whole lot more! Today, we get to review some cool educational toys from the company called Shifu.
Shifu Orboot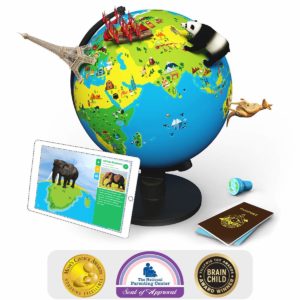 At first sight, this 10 inch globe looks like your basic globe you might have had in your classroom at school. With a smartphone or tablet, and the downloadable app, this Augmented Reality device turns into an interactive learning tool that brings the world to life. It's created for kids ages 4 to 10, but I think even older kids will be able to get something out of it.
What's in the box?
10″ custom Globe (No borders or names on globe)
Stamp guide
Passport
Country flag stickers
Comprehensive help guide
The app is compatible with the following devices- iPad 3 & above, iPad mini 2 & above, iPhone 6 & above; Kindle 8 and above; Android 3GB RAM and above. The app contains games, puzzles and other activities. You can adjust the level of difficulty to make things age appropriate.
If you would like to purchase an Orboot, it's only $49.99, and you can buy it here.
Shifu Plugo Link and Count
Plugo is actually a series of kits that work with the Plugo app(available for Android and Apple). Each kit does different things, but we're reviewing the Link and Count kit. These are two kits combined in one that can also be purchased separately. The Count kit is an AR hands-on way to learn math while playing games at the same time. The Link kit has creative design games. These game levels are adjustable like the ones on the Orboot app. They are created for ages 5 and up.
What's in the Box?
This bundle we received comes with a gamepad(which is compatible with the other kits), the count system (1 Count Spike, 2 sets of 0-9 Numerals, 4 Operators),  and the link system (15 hexagon building blocks).
The Plugo app is downloadable is compatible with newer iPads after 2017, iPad Pro (except Pro 12″), iPad Air 1st Gen (and above), iPad Mini 2 (and above), and iPhone 6 (and above). On the Android side, it works with Samsung Tab A, E, S3, S2, Galaxy S6 and above, and Galaxy Note 4 and above.
This video explains these kits and the others as well.
If you want to buy this combined kit, it is $79.99 here. If you buy them separately, they are $49.99 each, so you get a good deal bundled.
You can also purchase these items on Amazon.com. If you click through our Amazon Affiliate Link, we can earn a little bit of money. Otherwise, these items were sent to us for free to review and no other compensation has been given.