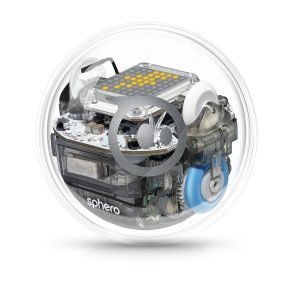 It has been far too long since we reviewed a Sphero product, as it has been about 7 years. If you are not familiar with the company, they make these cool remote control balls as well as other educational toys. This time, I had a chance to review the Bolt.
The Bolt is another coding robotic ball, and you can see that in addition to the ball shape, it has an 8×8 programmable LED matrix. This ball comes with a charging cradle and cord to get it powered up.
Now, the Sphero Bolt is an educational toy, which means it is quite complicated to get working. Okay, I don't know if that is what this means, but once I downloaded that Sphero Edu app, I had to figure out how to work this thing. Then I was given all of these classes and stuff, and I just wanted to play with the thing, honestly!
I did find a drawing program, and I could draw a shape of something on the floor, and the ball followed its pattern. I found that I drew it so large that it hit certain things on the floor, and I realized I am going to need a lot of space.
I soon learned that I could just work this thing like a joystick, and I could even control the brightness and colors of the LED patch. I know there is probably a way to do some cooler things on the LED things, but this is one of those devices that I would have to give a lot of time to in order to master.
If this is something that is up your alley, feel free to head on over to the Sphero website and pay $149.99 for it.