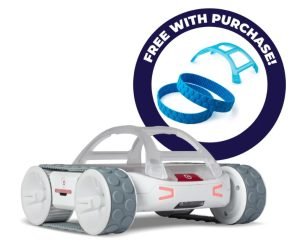 Okay, I can't honestly say whether or not the RVR that I reviewed almost two years ago is the same as the RVR + that I am reviewing now. Perhaps the only difference is the limited edition blue roll cage and treads, which don't come in the box. (Check the unboxing in our video review, which we filmed again.)
So what exactly is the RVR? I've going to assume that it is pronounced like "rover", because that is essentially what it is. Just imagine if some evil scientist used his shrink ray on a tank (complete with treads) and you could somehow take control of it.
There is an application from Sphero that allows the user to take control, but I have to admit that it has waaaaay too many layers to it. It does have a nifty supply of coding programs that allow you to learn from this. I'm guessing that this is designed for younger hands, as Sphero seems to have all kinds of curricula around the RVR+.
In fact, I didn't realize that the RVR is very much like LEGO Mindstorms, which is a comparison that I have made before the last time I reviewed the RVR. The Mindstorms had these pieces that include a color sensor and accelerometer, and the RVR has those things and a light sensor, IR, magnetometer, and gyroscope.
Of course, I think the goal of the RVR is to give the user that ability to do just about anything he or she wants. I'm told that you can run third-party hardware like Raspberry Pi, micro:bit, or even…Sphero LittleBits? Yes, we have talked about that before.
If this RVR+ is something that you want (it is a good holiday gift), head on over to the Sphero website and pay $279 for it.