Introduction (Does It Do What It Should)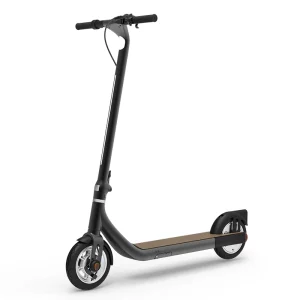 There are times when I really love my job, where I get to review something very technological, and very neat. I definitely have had a lot of fun reviewing this Atomi Alpha Foldable Adult Electric Scooter.
You can see in the video the unboxing, and precisely how big that box actually is. I hope that you can also see how easy it is to assemble. What you don't see, or at least until later, is how well it can glide across the pavement.
I don't think that I put this in the video, but you have to be going at least 3 miles an hour before you can use the 650W motor for quick acceleration. You can see in the video that I was trying to get some kind of demonstration, but I couldn't get it working. Man, I was kind of upset, because I thought the model they sent me didn't work.
From there, I was able to get the Alpha scooter up to about 11 miles and hour, and I didn't really try to get it faster than that. It can go about 30 km/hr, but I don't feel like doing the calculation.
I made certain to wear my helmet, and I loved to get footage on my GoPro. It is great to go on very flat paved areas, but any hill over 20 degrees might need to be walked up.
You can see me having a hard time to find the charging port, and I've heard that you can get about 25 miles on a single charge. You probably saw how I thought the locking chain was the charging cable, but I found that it was pretty easy to set a combination. There really isn't a lot of length on the chain, and it isn't very wide either.
Let's see, what else did I not discuss in the video? Oh yes, the app. It was a very easy download, and it synced pretty much right away. Granted, there were a few times that I had to turn one of them off before it synced again, but from there, I could control some things.
For example, I didn't know about the Cruise Control. Apparently, if you rev this thing up to about 8 miles per hour, it will stay that way without using the accelerator. I actually found that out by reading the instructions, and I'm glad that I did. That chime was driving me crazy. I bring this up because the app allows me to turn off the cruise control. I can also turn on and off the headlight. I can also put it in parking mode, because I guess parking mode is kind of a second level of security?
Oh, there's this cool light underneath that the app will allow you to adjust. I've never scooted at night, but it probably looks super cool then. Speaking of which, the LCD screen is pretty good, with some bars to show how much power is in there.
I should also talk about the tires, and they are 9-inch anti-puncture tubeless tires. I had some issues with folding it up, but only because I could figure out how this hook thing works on it. I was actually showing someone the controls, which included a bell, brake, and the accelerator, but there was a spring-loaded hook that I couldn't figure out. Once I folded it up, I could carry the Scooter around, and it was pretty heavy.
Facts About The Company
I think I'm just going to use a block quote for this:
Aesthetically functional is what defines Atomi scooters. When simplicity and ease of use meet iconic style, a new path of aesthetically pleasing functional designs is created. With a rich history in designing and manufacturing the best in electric and traditional scooters globally, Atomi products are far from new. Our name, however, needs an introduction. Atomi is a new breed of electric scooters, named for the infinite release of atomic energy and echo's the sound of the electrical resistance unit ohm, our products are charged with over 25 years of innovations and original creations that pathed the industry we know today. Scooters have come a long way since their early days, from the earliest iterations until the electric revolution, scooters have provided a more convenient, and let's face it, funner mode of transportation for city dwellers and urban lifestyles. With every step forward and every breakthrough, came a team of exceptional designers. Today, that team are ready to bring their experience directly to you.
So, what else can I say?
What Does This Company Make?
Yeah, not really much, as when I went to the company website, the Alpha Scooter is the only product that they seem to have. Oh, they had some accessories to go with it, but it makes me wonder what else this company has to offer. I wonder if there is a beta scooter on the way, but that sounds like a lesser scooter. Sorry. I really hate how the term "alpha" has been getting a lot of association with the word "male".
Just the Specs, Man
If you're the type that needs this info, this section is for you!
– 650W Max. Motor Power
– 40km/25miles Long Range
– 30km/h Max. Speed
– 9-inch Anti-puncture Tubeless Tires
– 120kg/265lbs max load.
– LCD display
– 2 second double insured folding mechanism
– Built-in combination lock
– Ambient Light bars
– App Bluetooth
If there is something on this that I didn't cover, please let me know.
What Do the Reviews Say?
I found it on Amazon with an average rating of 4.1. That is out of 87 reviews. I'm not certain how it relates to other electric scooters, honestly.
Okay, Get To The Unboxing Already!
Okay, I Like It, Just Give Me The Link So I Can Buy It Already!
Maybe I Want It, But Is There Anything Else Like It? Maybe For A Lower Price? Please?
Like I just said earlier, I've never really reviewed an electric scooter before, but I really hope that this isn't the last time.