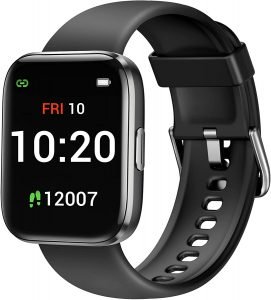 Okay, I have reviewed a lot of fitness related products, but I really do like the low price and many features of the LetsFit Smart Watch IW1.
I have had it on my wrist for the past few days, and I have to admit that I kind of like having it there, like nice fitness strap that lets me know a few things that I need to know. The app was able to tell me my Heart Rate, Resting Heart Rate, Calories Burned, Distance, and even Sleep.
I am not certain how it achieves getting me these stats, but I think it has to do with these weird blinking green lights on the back. I would think that those lights would drain the 5-7 days of battery life, but I don't think it is.
Other features include smart notifications for messages sent straight to the device, as well as control of music during workouts. You can also get these alarms that can wake you up in a "friendly" way.
Yeah, I am not certain about that, but I had a really interesting encounter where I was at my computer for an hour and a half when my IW1 Smart Watch gives me some kind of alert that says "Please get up and move around". I believe I said: "excuse me".
Is it strange that something like this can be such a low price? I found it on Amazon for $33.99. That's not bad, and this whole product is something that I believe to be very good. You can find out more information about the IW1 on the LetsFit site.