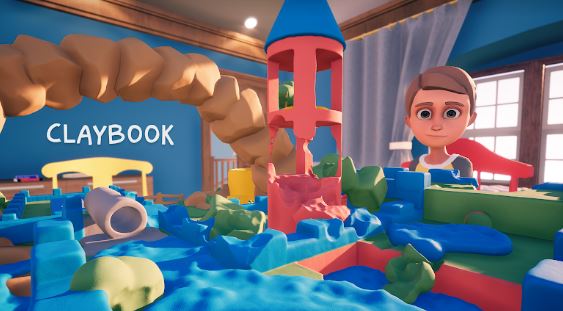 Just for the sake of honesty, I usually do reviews of games that I believe that I will like. I don't like Real-time strategy games or turn-based games or deck-building games. When I heard about Claybook, I felt that I had to at least try it.
After all, I do like puzzle games, and the format for Claybook is like that of a puzzle game. You know, where you go to one level, do some things, all just to make it to the next level. The big difference with Claybook is that you have…feet of clay. Sorry, it was a little too easy to make that particular crack.
Essentially, you get to play as a clay shape in the midst of a clay world. Actually, who you are in the game is this kid who is apparently playing with clay, and if you adjust your camera view, you can see the kid that you see in the image. Yeah, he's there, working a joystick, with a real uncanny valley look on his face.
Playing here is not very addictive, and yes, that isn't a good thing to say about any game, which is why I am not giving it a high review. It is highly unusual as your clay shape has to take in clay in order to make clay stuff happen. For example, there is one level in which you have to fill up some holes with water from a weird water tower, also made of clay. Yes, I'm doing a terrible job describing this, but the way to drain the "water" from this container is to use your clay self to punch holes in it. You can do this by essentially spinning and this drills into anything made of clay, even the floor.
The issue that i had with this game was that I kept wanting my clay to somehow jump, but it is impossible to do so. I guess it is a video game habit, really. You can change your shape with the touch of a button, and that is really different.
Of course, different isn't always good, but I'm going to praise this game for attempting something that I have never really seen before in any video game. By the way, there is a level creator, if you are interested in playing in a video game clay world. I am surprised that this is the first time I'm seeing a game like this, really. For that, I'll give Claybook two stars out of five.