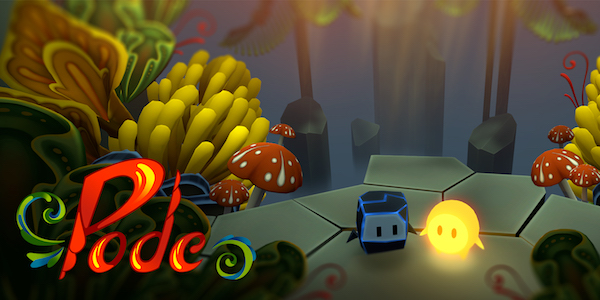 Pode is one of those games that is simply relaxing. Heck, I am told that even Captain Marvel herself, Brie Larsson, plays this game. However, don't just take the word of a celebrity, but the word of this writer: I love this game.
Whenever I am watching a good movie or playing a good game, I talk about the "all in" moment. That is, there is something about this that just sucks you in. I'm not certain when this takes place during Pode, but it happens.
The set-up for Pode is quite unusual, but it is a co-op game with two main characters. The first is a cubical rock character known as the builder, and the other is a fallen star named Glo. The two of them go into this magical mountain and go from room to room. The main goal appears to be restoring the vegetation of what appears to be a dead world.
Going from room to room is very difficult, but each of the characters has special powers. Glo has the ability to grow plants, and the Builder has the ability to alter rock. Together, these two need to use their powers together to restore their world. At least that is what I think is going on in the grand scheme of things, but the challenges of the game are really great.
The look of the game is also wonderful, as the appearance of green in this rocky terrain really works. The music really compliments it, and these types of relaxing games are the ones that I really like. Best of all, if you play it with a friend, it is even more fun.
If going to give Pode four and a half stars out of five. I would give it a perfect rating, but I thought the puzzles were a bit too easy to solve.