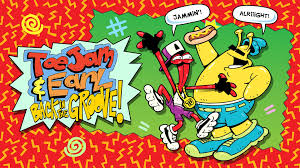 I have to admit that I barely remember the first ToeJam and Earl game when it hit the Sega Genesis back in 1991. Believe me, I was old enough to play it, as a friend of mine in college had it. I remember this odd kind of co-op game where these two aliens, one skinny and one fat, just kind of wandered around.
I will have to say that ToeJam and Earl: Back in the Groove is essentially two aliens wandering around, but it embraces its nineties values to a hardcore degree. I believe that most of the characters have an African-American vocal talent, and the beginning reminded me of a Saturday morning cartoon called Rickety Rocket. Look that one up if you have the time.
The introduction to ToeJam and Earl: Back in the Groove is like something out of a 90's situation comedy akin to Saved by the Bell or The Fresh Prince of Bel-Air. It begins with the titular aliens on board a ship with two ladies that they are trying to impress. Unfortunately, Earl, the dumb fat one, presses a button that puts them into a black hole.
From there, ToeJam and Earl wander around on this crazy Earth in search of pieces of their downed spaceship. The strangest thing about this game is that they wander around and pick up meet all kinds of weird people. There is this one guy that looks like Gandhi, some flying devil guy, and all kinds of other things that I can't even begin to identify. To aid this madcap duo are some presents that can do all kinds of things that do all kinds of odd things.
I suppose what makes this game work is all of this nineties randomness, and to make this even weirder, I have found out that one of the greatest nineties kids of all time, Macaulay Culkin, is one of the executive producers. Yes, that Home Alone kid how has a lot of web presence with his channel of Bunny Ears.
I'll go ahead and give this iteration of ToeJam and Earl three out of five stars, just for its sheer nineties nostalgic randomness. It didn't have the power to suck me in, but there is enough in it to keep it interesting.