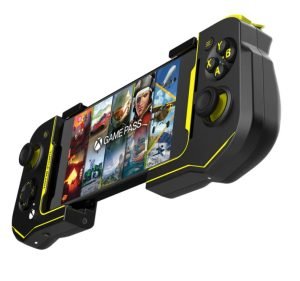 This is going to be one of two Turtle Beach controllers that we will be reviewing this week, and I have to admit that I like the slickness of the Atom Controller, designed primarily for Android devices.
I really enjoy the tagline for this particular product, as it talks about "Split the Atom", and these two things come together for charger purposes. Seriously, they lock together magnetically, and you can charge it via USB-C cord. You've got enough power for about 20 hours worth of gameplay, by the way (with 2.5 hours of charge).
Once it is fully charged, you put it on the clamps, and I found that it worked with my Galaxy Note 10 Ultra, even though it is quite large. Then you pair it with Bluetooth 4.2 and you can use a lot of cloud gaming services like Game Pass, GeForce Now, Stadia, and much more.
I definitely like its ergonomic shape, and just holding it in my two hands makes me feel like I have a Nintendo Switch in them. By the way, there is an Atom Companion App for even more features and updates. I can't believe that I didn't mention this before, but the Atom comes with a one-month free subscription to Xbox Game Pass Ultimate.
This is one great controller, and if you want it, head over to the Turtle Beach website and pay up to $99.99 for it.