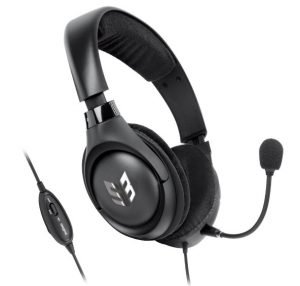 I've reviewed a lot of great Creative Labs products in the past few years, such as the Creative Chat. Today, I'm reviewing something similar with the SoundBlaster Blaze V2 Gaming Headset.
So I can't help but feel that this SoundBlaster Blaze V2 is some kind of receptionist headset. Perhaps it is the microphone that plugs right into the side, and the cool volume control function as well.
I suppose that it is made for the game with its 40 mm precision-tuned FullSpectrum drivers. So you got some great sound for your game that includes not just the PC and Mac, but the PS5, PS4, Xbox, and Nintendo Switch.
So how good is the sound? Well, the Sound Blaster is a family of sound cards made by Creative Labs, and they have been doing this for a long, long time. It has 7.1 surround sound and there is software available for such as task as well.
One of the best features of the Sound Blaster Blaze V2 is how light it is. I mean, it is 6.6 ounces, so it won't feel too much of a burden on the brain. Yeah, you know exactly what I'm talking about!
So, yes, I think I'm going to be gaming all day with these guys, and you can purchase the Sound Blaster Blaze V2 on the Creative Labs website for a relatively low price of $34.99.