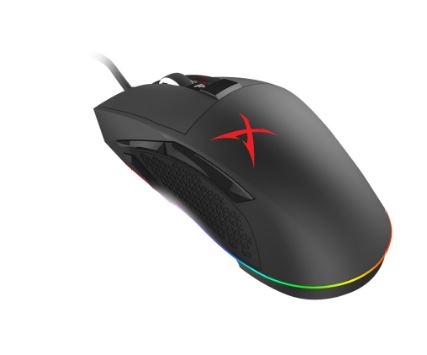 I might as well say that the Seige M04 Precision Gaming Mouse feels like some kind of sidekick to the SoundBlasterX Vanguard K08 keyboard that I reviewed earlier. It has the P.R.E. (Perceive, React, and Execute) features of that keyboard, and it is a product of some serious hard work.
So let's start with its features. We are talking a gaming grade PMW3360 IR LED sensor with 32-bit high speed MCU with low lift-off distance. It also has 7 fully programmable buttons full of internal memory, as well as 3 level DPI cycle button for on-the-fly DPI switching. The Siege M04 also can't help but feel good in the palm of your hand thanks to its comfortable right-handed design for palm and grip.
Oh yes, and let us not forget about the Aurora Reactive Lighting System, good for 16.8 million colors. I've sort of gone into detail on that when discussing the Vanguard K08 keyboard, so I'll touch on the 32-bit high speed microcontroller good for a polling rate of 1000 Hz, 12,000 native DPI, and low 2mm lift-off distance.
All of that adds up to a gaming mouse you want to keep around the house. Yeah, that is a pretty lame slogan, but hey, it is good enough for a recommendation with the other gaming mice.
It is available for $64.99 on the Creative Labs website, and this is as good of a time to say that the SoundBlasterX Siege M04 was given to us for an unbiased review.