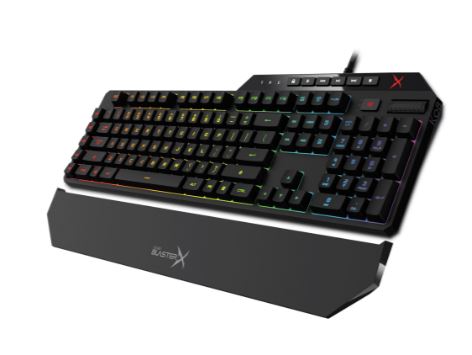 All right, it looks like we are reviewing another fine product from Creative Labs, and this time, it is the SoundBlasterX Vanguard K08, a gaming keyboard. Well, if you are familiar with any keyboard reviews that I have done in the past, then you know that I am going to type my report using the product.
So how does it fare? It feels like I can type a lot faster on this guy. Part of it is that its design with OMRON, PRES (Perceive-React-Execute Switches) which allows for rapid-fire keystrokes. Yeah, there is a diagram showing how fast a typical key gets pressed versus one from the SoundBlasterX Vanguard K08. The shaving of a few seconds really makes it faster, by about 25 percent.
Let's talk about the keys, and not just the speed. There are 109 fully programmable keys on this guy, with five of them on the left side as M1-M5. This is really designed to up your game, and the game it seems designed for is Final Fantasy XV (the Windows version).
Since this is a gaming keyboard, then you know what that means, a lot of pretty lights on the keys. It has this Aurora reactive technology which gives it the power of a lot of colors similar to the northern lights themselves with 16.8 million colors.
It is because of this wonderful glow that comes with two USB plug-ins to make it work. I'm grateful that my computer recognized it right away, but I had to wonder why the cables were so darn thick.
It's quite something, and I'm not even finished writing about the benefits. It has some buttons made for media playing, and this really cool rotary volume control. I forgot to mention the detachable wrist rest.
Before I forget, Creative Labs sent us the SoundBlasterX Vanguard K08 for an unbiased review. I am going to say that it is a good gaming keyboard and give it a good recommendation. It is available on the Creative Labs website for $139.99.