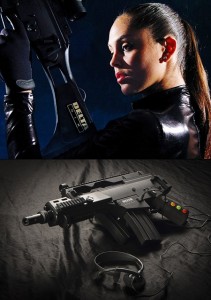 I think games like Call of Duty and other famous FPS (First-Person Shooter) games have changed the video game field, and they are about to get another boost into near-reality with the Delta Six.
The Delta Six is a controller that looks so much like a gun that it would be fatal to pull out in a high-tense police situation. It is programmed with a popular DIY platform known as Arduino, nad it can be used with PC, Xbox 360, and PS3 platforms.
The gaming controller has a lot of motion control for moving slightly left and right to aim, like in real life. If you want to reload, simply tap on the clip. This gun makes a realistic firing sound, and it will have some serious recoil as well.
You can see a video of it at my Source below and discover even more cool features. For example, if you pull the stock into your shoulder and your aim will become steadier with the FPS breath hold feature. I have absolutely no idea what that means, but I'm guessing for those in the FPS world, it sounds quite cool.
The creator of the Delta Six created the Avenger, which is sort of controller adapter which allows for even faster reflex action. I'm not certain when it will be available to the public as yet.