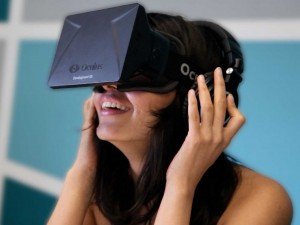 In case you don't know, there is a big conference in Austin known as South by Southwest (SXSW), and it is devoted to film, music, and other media. Andrew Wilson, from Electronic Arts (EA), didn't really have much to stay about virtual reality (VR), but he did bring up something interesting.
According to my Source, the man from the second-biggest video game company in the world stated that people interact with electric games in three ways: leaning back (console gaming), leaning in (PC gaming), and looking over (mobile gaming). EA believes there will be a fourth gaming method of getting in with VR.
Considering that I've reported on the Oculus Rift several times, I see that it could become popular if it was inexpensive enough. I think we are at a point where video games are just about to become extremely realistic, to the point of photo-realistic. The only possible upgrade could be VR, and I think the only question is why this came so late. After all, we predicted that VR was going to be the wave of the future in the early nineties, and that was twenty years ago.
So, let me give you some advice, EA. Get on the VR bandwagon before it starts! Start making games that VR users are going to want to play. I'm serious, because you don't want some other company beating you to the punch, and the only thing you have to offer is 2D video games.