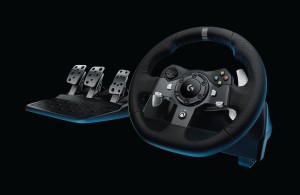 Well, as many of you know, I went to PAX Prime last week, and I am still getting over it. As I had a chance to stop by Logitech's booth, I was pretty impressed with their Driving Force technology. These are racing wheels designed for gamers, and the coolest were the G920 and G29.
I'll go ahead and start with the G920. This one is designed for the Xbox One and PC, and I'll tell you about what the G29 is good for later. They have several similarities, and I'll start with what makes it different as it has an optional Driving Force Shifter with a six speed manual gear stick with push-down reverse. Yes, it has built-in clamps and bolt points to allow the Driving Force Shifter to be mounted securely.
Yes, these are some great racing wheels, and it has some interesting features like "Realistic Force Feedback" so the player can sens the under or over steering. As players are speeding along on their way for whatever racing game they are doing, they have access to the D-Pad as well some other points on the steering wheel for a lot of good speed in their game.
By the way, there are some very cool pedal units so that the user can brake, accelerate, and of course, change gears. Now this was set up in the Logitech booth at PAX Prime with some serious sit-down playing power that felt like it was taken from an 80's arcade.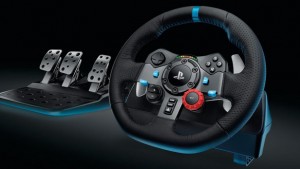 Now, let's talk about the Logitech C29. It is made for the PS4 and the PS3. Just to let you know, it has almost all the exact same features as the G920, except that it does not have the Optional Driving Force Shifter.
At least, that is what the press release tells me. The G29 has been available since last July, for a price of about $399.99 and you can find more info about it here. As for the G920, it won't be available until October for the exact same price, but it can be pre-ordered here.