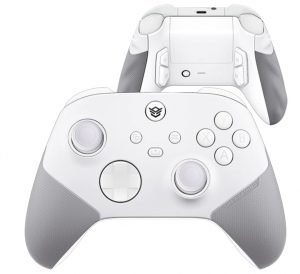 One of the things that is interesting about my job is that products tend to show up, but they might not be what I expect. So, when it comes with the ULTRA X Controller, I checked out the Press Release, and trust me, none of them were as discolored as this. Take my word for it.
Anyway, the ULTRA X is made for eSports enthusiasts. I am told that you can save up six different paddle remapping profiles and then switch on-the-fly with the press of a button, assigning a maximum of 14 buttons (available mapping options include: A, B, X, Y, R3, L3, UP, DOWN, LEFT, RIGHT, LB, RB, LT, RT).
You can also switch the thumbsticks around with concave regular, domed medium, concave long, as well as domed long. You can see in the video how it works, but I will have to say that I have never really notice a difference. But as I said before, this is for the professionals, so it might make a difference to them.
Speaking of adjustments, there are these switches on the sides that will take these buttons from full pull to short click. Now, I was playing that one Cornerstone: The Song of Tyrim, and I would say that keeping these buttons with a short click actually affected my game.
You got to love the rubber grip on these guys, as well as anything else about this guy. You should be able to purchase it on the HexGaming site for $249.99.