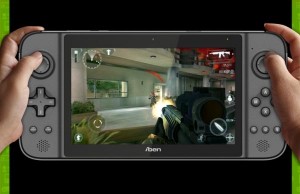 I'm pretty certain that the Nintendo DS and the Playstation Vita dominate the portable console market, and let's not forget about how tablets and smartphones have started their own touchscreen gaming revolution. It would appear that another portable gaming console has entered the mix with the ibenX GamePad.
The ibenX GamePad is designed for Android 4.1 (Jelly Bean), which means that it can do just about anything. The GamePad has an A3 ARM Cortex-A7 quad-core along with a PowerVR SGX 544 graphics chipset. I'm not certain what that means, but it sounds technical enough.
What interests me is that it has a 1280 x 800 resolution IPS display, 1 GB of RAM, 5 Megapixel camera, and 0.3 Megapixel front-facing camera. I like all of controls, but I don't see any price or availability date on my Source.