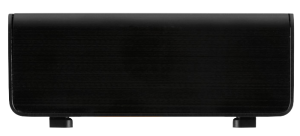 A while ago at CES, I met someone who said that he was going to change the world of gaming as we know it. I met this guy at CTIA and asked him how it was going.
He told me about the iConsole.tv, and I liked what I heard. This is a gaming device that promises to bring all the world of Android gaming to the television. Yes, there are Kickstarter projects like the Ouya that promise the same thing. However, these systems just bring content to your television that is as good as what is one your smartphone or tablet.
Don't you want something more? Then the iConsole.tv could be the answer to your prayers. This is "the first Steam-compatible Android", and you will be given a gaming experience like no other. You can also use the iConsole.tv as a PC if you plug in a keyboard and mouse. Yes, there is a DVR involved, and yes, it will change the way you watch TV.
By the way, games are going to be cheaper, and iConsole.tv is currently looking for developers.
All I can say is that I can't wait to try it out, but it will be a while before you can purchase it. You can find out more information about it here.