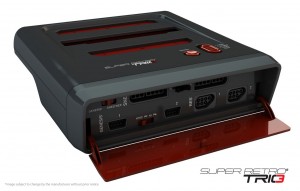 Some of you might not be satisfied with the big three of video games these days. If you would rather play games for the NES, SNES, Sega Genesis, or GBA instead of what the Wii U, Sony Playstation, or Xbox is currently giving you, then I recommend a new product manufactured by Retro-bit and distributed by Innex.
This is the Super Retro Trio, and it is a 3-in-1 home system that has three cartridge slots for the old-school games as stated above. It also has six controller ports that are compatible with original as well as third party controllers, not to mention two 16-bit game controllers. It also has an S-video connection, AC adapter, and AV cable.
Innex plans to put the Super Retro Trio as well as their Super Retro Adapter at E3 this June. The Super Retro Adapter allows for playing original GBA game cartridges directly on the SNES or any third party 16-bit console. It also comes with a GBA link cable port for connecting up to 3 Gameboy systems for some 4-way gaming action.
You can get the Super Retro Trio for about $69.99. The Super Retro Adapter costs about $39.99. it is possible to purchase to get a Super Retro Bundle with the Super Retro Trio and Super Retro Adapter for about $89.99.