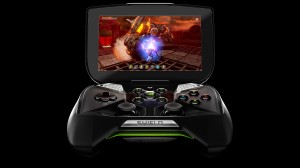 I'm not certain if there is a market for any handheld unit that isn't made by Nintendo or Sony, but NVIDIA, who has made a name for themselves with perfecting computer graphics, has just announced the Shield.
The Shield is a clamshell contraption with a 5-inch touchscreen with 1280 x 720 resolution. It has a Tegra 4 processor with 72 GPU cores and quad-core CPU cores as well as 2GB of RAM, 16GB of internal storage, Bluetooth 3.0, and Android (Jelly Bean to be precise). Yes, the plan is to run Android games and full PC games streamed from Steam or windows via the built-in Wi-Fi.
My Source questions this move from NVIDIA, as most people could play games on a gaming laptop with a larger screen. Perhaps the battery life of 28.8 watt hours or 10 hours of gaming could be a bonus.
It is also cheaper than a gaming laptop at $350, and it comes pre-loaded with Google Play, TegraZone, Sonic 4 Episode II THD, Expendable:Rearmed, Hulu Plus, and Twitch TV. You should be able to pre-order the Shield next week on the 20th, and officially hits the market sometime in June.