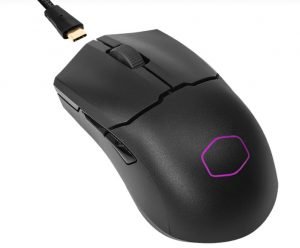 Well, I've certainly reviewed a lot of terrific Cooler Master products here, and they most certainly have their share of cool mice like the MM731. So even though the MM721 sounds like it might be a step down for the company, it sure seems like a step up.
The Cooler Master MM712 has three options for connectivity with hybrid 2.4 GHz, Bluetooth 5.1, not to mention the cord. I should probably talk about the cord, as it is kind of…yarn-y. Seriously, what is with these mice cords not feeling like wires?
Just to let you know, it took me a while before I realized how to go wireless. It comes with a dongle, and then there is this switch on the underbelly of the MM712 that you have to put in the proper mode.
The only thing that I cannot figure out is how to change the color on this, and I figured out it is a combination of these two buttons. I did discover this one button the bottom that made the cursor go extremely fast, and that is a DPI cycle button, according to the instructions. I think that fast-moving cursor is really awesome, and I believe this justly makes the MM712 a gaming mouse.
So, yes, I would recommend this if you are into that gaming scene, and you can find it on the Cooler Master store for a price of $69.99.