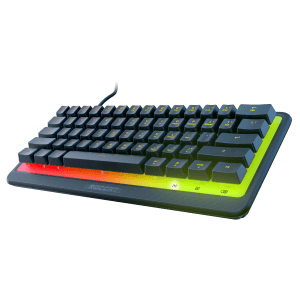 Oh yes, we have reviewed many ROCCAT products in the past like the Vulcan II Max, and I'm sure we will review more. The truth is that I really like them, and honestly, I really like the Magma Mini.
If you haven't figured this out yet, it is called the Magma Mini because it is smaller than most keyboards. I'm told it is a 60 percent form factor. If you think that might fowl you up as you type, I am happy to say that I have been typing this report with the Magma Mini, and I haven't had too many typos (no more than normal, I assure you).
Of course, the Magma Mini is from ROCCAT, which means it is a gaming keyboard, and it has some membrane switches in the keys. There is also a mode so you can access some modes like play/pause, volume control, and others.
What I am not certain how to control the lighting setup, but it is quite cool, isn't it? What is interesting is how it is durability rated at IP33. That means you can resist certain spills and sprays.
Are you interested in the ROCCAT Magma Mini keyboard? Head on over to the ROCCAT site and lay down $49.99 for it. A very good deal, I must say.