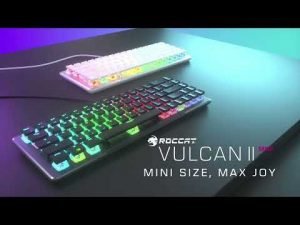 It is good to review another ROCCAT product, as we have reviewed three of their gaming mice in this year alone the last one being the KONE XP Air. You can see that the ROCCAT Vulcan II Mini gaming keyboard has a great tagline of "Mini Size, Max Joy", and I can't help but like that.
Of course, I always like to do reviews of keyboards by typing on them, even though I have to relearn where my fingers and hands are. In this case, the ROCCAT Vulcan II Mini has a 65 percent form factor (about 4.57 x 12.75 inches), so it does feel smaller than most keyboards (hence the "Mini" in the name).
I am told that the ROCCAT Vulcan Mini II has the World's First Dual-LED Smart Keys, and honestly, I'm not certain what this means. They also have fast actuation, and they are quite durable as well. I have to admit that I like the sound of the clickity-click.
This would be a good time to talk about the lighting, and you might see better results on the video. Apparently, you can sync with other AIMO products to sync whatever light pattern you pick.
If this the ROCCAT Vulcan II Mini is something that you want to get down with, head down to the ROCCAT site and lay down $149.99.