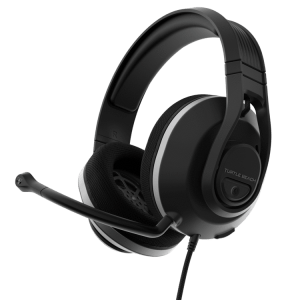 Of course we at The Geek Church love to review us some Turtle Beach products, and we were pleased that they sent us the Recon 500 Headset. This is a pair of gaming headphones that is good for just about anything and this includes the Xbox Series X/S, Xbox One, PS5, PS4 Pro, PS4, and Nintendo Switch.
Right now, I am trying this out on my laptop, and since I don't really game there, I can't really speak for the PC gaming platform. However, I do like the sound that I am hearing while I'm watching a show now.
This is because the sound comes from a first-of-their-kind 60mm Eclipse Dual Drivers that has some serious woofers and tweeters for some great AccuTune sound. This sound comes straight to your ears via durable and lightweight cups that cling well to the ears without wearing them out.
I'll go ahead and discuss the plug-in TruSpeak noise cancelling mic. It plugs in right in the corner, and then has some flexibility going on.
It's kind of interesting how all of this works without batteries, but anything with a 3.5 mm jack. Oh, there's a really cool braided cable because sadly, these are wired.
At least the Recon 500 Gaming Headset has a low price, available for $79.95 on the Turtle Beach website.