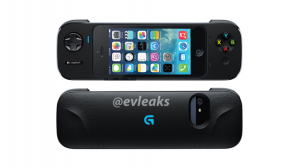 Now here's something that I like, not reporting on tech news, but rumors about tech news. I've been hearing about rumors of tech, and I often don't report on them because these rumors don't come to fruition.
At WWDC this year, Apple referenced this idea for a gaming controller, and this one would be official. This is what it…could be, and this one would be from Logitech. Logitech is already a big tech giant, and this would be a big shot in the arm for this company if Apple made them their official rep.
This looks like an SNES controller with ABXY buttons and a four-way directional pad. Then there's the possibility of a camera involved, but who knows? After all, this is just a rumor!