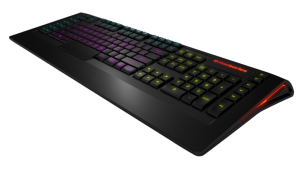 This week, I am going review a lot of interesting products from SteelSeries, who makes "professional gaming gear". I will start with the Apex, which is a keyboard designed with PC gamers, specifically MMO ones, in mind.
I will start with the color colors. Not only does it have the cool side lights, but sections of the keys can light up. You can use 5 independent color zones, and each is capable of 16.8 million combinations. This lead to over one trillion of possible colors, somehow, and they are cool to access.
You'll need to download the software to use the MMO macros, but it is worth it. After all, there are not many keyboards that have 22 macro keys capable of 4 layers.
There are some other cool features, such as the two USB ports on the back as well as the cool swappable rubber feet. Then there is the other cool feature like easy-to-find WASD keys.
All in all, it is quite a cool keyboard, and I would recommend it for the coolness factor alone. It can be purchased on the SteelSeries website for about $99.99.