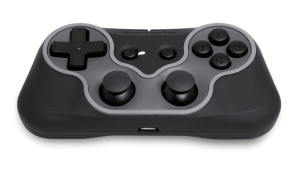 Today I will conclude our SteelSeries series with the Free Mobile Wireless Controller. This does not mean that it is free, but it is a wireless controller called the Free.
I can't help but compare it to the Nyko PlayPad Pro, as I just reviewed that one particular controller for Android just recently. The Free is for multiplatform control, which means it is good for iOS, PC, Mac, as well as the aforementioned Android.
I will have to say that these controllers are better for the serious mobile gamer. I have noticed that the few games that I have don't really work with devices such as these. Still, I like the size of this particular Mobile Gaming Controller as well as its dual analog sticks, Dpad, 2 trigger buttons, and 4 other buttons.
This Free hooks up with Bluetooth on a mobile, and use that wireless connection method for the PC and Mac. You can find the over 10 plus hours of nonstop wireless play and 20 plus hours of casual play time. You can charge the controller and play at the same time, by the way.
You can pick this up on the SteelSeries site for about $59.99.